After School Care in Huntington Beach, CA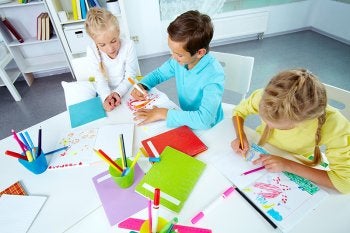 At Kellie's Academy for Kids, we believe learning doesn't stop after the final school bell rings. Our after-school care program is designed to be fun and relaxing after class, while still providing valuable educational content, homework time, and social interaction. The structured schedule provides a welcoming, safe, and fun environment for your child. Schedule a tour with us anytime to see the full benefits for yourself.
All our teachers are fully qualified, trained, and certified to teach elementary school-aged kids. They play an active role in preparing and planning the schedule of activities to incorporate educational elements and experiences into fun and engaging activities both indoors and outside in our big, beautiful playground area. At Kellie's Academy for Kids, children enjoy a huge grass field and blacktop, and we supply the toys and sports equipment to play ball, jump rope, cycle or scoot on the bike path, and more.
Safety and education
When the school bell rings, we can be there to pick up your children directly from school by our trained team of friendly drivers, all of whom are fully insured and enrolled in the Pull Notice System through the DMV. Children from all schools are welcome to attend; however, right now our transportation services are only available from the following schools in the Ocean View School District:
Circle View
Harbour View
Village View
If needed, we can provide booster seats for children.
Once at our Academy, kids follow a structured program to guide them through the rest of the afternoon. This includes dedicated quiet time for homework, so that when your child comes home for the evening, they can focus on quality family time instead of leftover homework before the next school day.
The program consists of changing blocks of time that on any given week might be dedicated to outdoor play, games and exercise, homework, and themed group activities, including arts and crafts, music, dramatic play, and science experiments, all accomplished with team-building skills and constant supervision by our staff and teachers. Currently, our low student-teacher ratio is maintained at 1 adult to every 14 children for the safety and personal attention kids deserve.
Optional activities
Kellie's Academy for Kids is open year-round with a variety of programs, not just after-school sessions during the semester. For kids enrolled in our School Age program, our optional activities can also include field trips periodically throughout the year (with parental consent). During the summer, our team plans weekly field trips to local sites for education and entertainment to take advantage of the great weather and free time when school's out (even if parents aren't on summer break!). When off campus, we reduce our student-teacher ratio even further for safety, with at least 1 adult for every 7 children.
We're particularly proud of our popular daytime summer camp, which combines all the best elements of our learning program with the most exciting parts of our field trips and games. For all of our field trips and summer camp programs, we welcome parent volunteers to enjoy the activities and spend time with the kids. Contact us today for a tour before your enroll or to sign up as a parent volunteer this summer!
Our After School Program provides a welcoming, safe and fun environment for your child. Schedule a tour today(714) 377-0533 now!