Kindergarten Prep Program in Huntington Beach, CA
Our Pre-K program is designed to ensure your child will be ready for kindergarten.
Ages 4 through 6 years old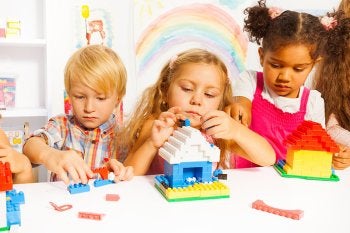 Our school year starts the first week of September. In October, teachers do a five page assessment that covers all areas of development, intellectual, physical, social and emotional. Teachers use these assessments throughout the year to guide them and ensure your child receives the individualize help needed to get them ready for kindergarten. In the Spring, the assessment is done again to evaluate their progress and parent conferences are scheduled.
We work with local school districts to ensure that we are preparing them for what is expected in kindergarten, according to the California Department of Education, and to keep up with any changes that may happen. This is a very valuable and important part of our program and one we are very proud of. Many kindergarten teachers have commented that they always know which kids came from Kellie's, they are prepared and ready! The curriculum is designed to meet early learning standards established by the California Department of Education, California Preschool Learning Foundations and Curriculum Frameworks.
Teachers do lesson plans based on a weekly theme, these are posted in the classrooms. Again, they cover all areas of development and are age appropriate.
And we offer the "Handwriting Without Tears" program, which is a nationally recognized, award-winning program that helps children learn to write which, in turn, helps in learning how to read.
Handwriting Without Tears
This top-notch program is very well regarded by many and highly rated by our parents.
Professionals from this program have trained our teachers.
This program is officially used by the Ocean View School District
Through music, movement, building, coloring, and multi-sensory activities, children have fun as they develop important skills such as:
Writing
Language proficiency
Color and shape awareness
Fine and gross motor control
Letter and number recognition
Counting abilities
Social skills
This program utilizes instructional methods that are fun and research-based. It uses uniquely successful strategies to teach letter formation, placement, spacing, neatness, and cursive connections.
Handwriting Without Tears aims to make legible and fluent handwriting an easy and automatic skill that every student can master.
The program introduces school readiness activities for young children of all ability levels.
Handwriting fluency is fundamental to all areas of elementary education, because children think and write at the same time. When we teach children to write, we also teach them to express themselves. If they struggle with their letters, their ability to express themselves will suffer. Spelling and math will also be affected.
Adopting high-quality standards for handwriting in elementary education can help all children succeed.