Infant Care in Huntington Beach
Child Care for Babies 6 Weeks – 1 Year Old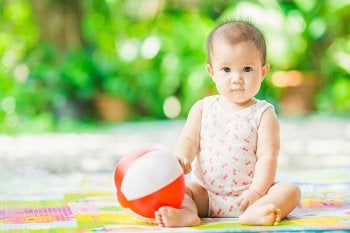 At Kellie's Academy for Kids we understand your needs and strive to make you and your baby feel welcome and at home at our child care facility. Our team has more than 32 years of child care experience and we care for each child as if they were our own.
Benefits of our infant care program include:
Part & full-time care
Our program meets all regulations required by the State of California and Community Care Licensing
We track diaper changes, feedings, and naps
Our infants are kept in a designated classroom designed especially for them
They maintain their own schedules so you do not have to adjust your schedule
We feed them bottles prepared by their parents (they are individually labeled and dated)
We only use the child's clothing, bedding, food, diapers, and wipes provided by their parents
We have an open door policy for parents, meaning you are welcome to drop in at anytime

Our teachers have completed college courses and are knowledgeable in the stages of infant development. Children at this age have a natural curiosity
and caregivers encourage exploration of their world. Their day is filled with language and sensory activities appropriate to their age, as well as the nurturing that is so vital at this age. We conduct quarterly reviews with parents to update their child's needs and schedule.
You have nothing to worry about when you leave your child in our care. Our Huntington Beach child care facility is incredibly safe and secure, and all our teachers provide a warm and loving environment for your baby. If you have any questions at all regarding our infant care program, please contact us at (714) 377-0533.